The Service You Expect.
The Quality You Demand.
The Price That's Right.

What do you think of when you hear the words Triple Crown?
Maybe great baseball players Ted Williams or Mickey Mantle come to mind for leading the league in batting average, home runs and runs batted in (RBI) over a season. Or perhaps it's the great race horses Secretariat or American Pharoah winning the Kentucky Derby, the Preakness Stakes and the Belmont Stakes in the same year. Well, when it comes to the printing industry it means delivering Great Service, Great Prices and Great Quality every time – The Triple Crown.
I've spent the last 20 plus years working at great companies and learning from some of the best people in the printing industry. Because Triple Crown Press Parts is a small and agile company we can respond quicker to your urgent needs and deliver quality parts at a better price. So, if your print company is looking for:
SheetFed.
Web Press.
Finishing/Bindery Needs.
Call Triple Crown Press Parts (937-625-1011) and we will get top-quality OEM parts delivered to your business that meet or exceed your performance standards. We understand the importance of run time and will always respond quickly to your requests for pricing and delivery.
Be a Triple Crown winner! Work with us today and see what it's like to get the absolute best in product Quality, Price and Service. Together we'll help you run your business like a Champion.

Wide Selection of Quality Press Parts:
Ink Servo Motors
Circuit Boards
Sensors
Fans and Blower Motors
Wash Up Blades
Wash Up Bottles
Grippers
Hickey Pickers
Brush and Roller Wheels
Sheet Separators
Doctor Blades (Steel and Plastic)
Printing Unit End Seals
Ink Fountain Blades
Ink Fountain Liners
Ink Duct End Blocks
Bearer Wipes
Slow Down Belts
Re-circulation Filters
Oil, Air and Exhaust Filters
IR and UV Lamps
Cutoff and Perforating Straight Knives
Anti-Gusseting Blades
Circular Slitter's, Anvil's and Perforating Blades
Jaw Blades
Tucker/Chopper Blades
Ink Duct Blades
Wash Up Blades
Doctor Blades (Steel and Plastic)
Cheekwood/Pressure Bars
Foam Bars
Bearer Wipes
Cutting Rubbers
Ink Servo Motors
Circuit Boards
Sensors
Folding/Impaling Pins
Stripper Fingers
Sheet Guides
Brushes
Transport Rollers
Paper Cutting Knives
Cutting Sticks
Magnetic Blade Guards
Rotary Trimmer Blades
Stitcher Parts
Jogger Blocks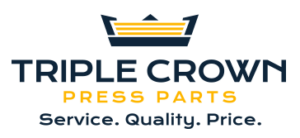 TRIPLE CROWN PRESS PARTS
19 McJunkin Road | Blanchester | OH 45107
Office: 937-625-1011 | Cell: 513-773-6111
Email: [email protected]
© Copyright 2020 Triple Crown Press Parts